The College of Physicians and Surgeons of Manitoba Apologize for Racism in Medical Practice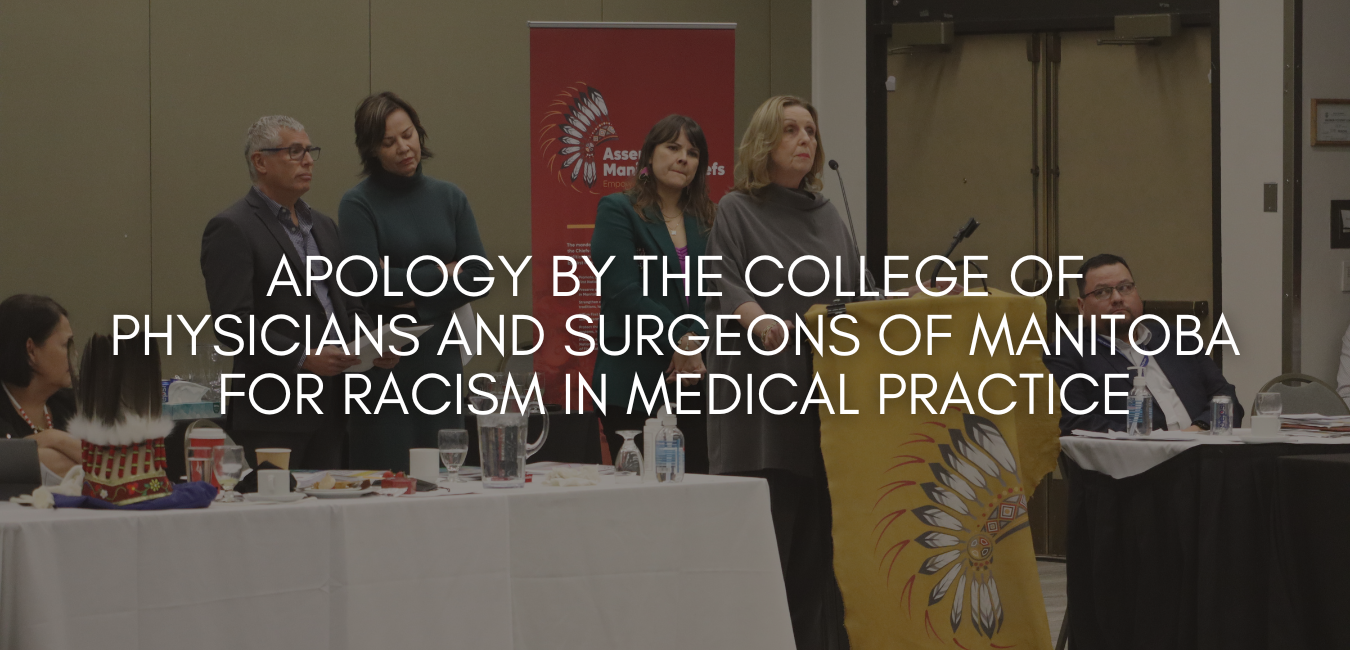 February 1, 2023
Treaty One Territory, Manitoba
AMC Communications
STATEMENT AND APOLOGY ON TRUTH AND RECONCILIATION AND INDIGENOUS-SPECIFIC RACISM IN MEDICAL PRACTICE
CPSM issued an apology to the Anishinaabeg, Anishininewuk, Dakota Oyate, Denesuline, and Nehethowuk, for racism experienced in their medical care in Manitoba.
The apology was delivered in person at the Special Chiefs Assembly on Health Legislation hosted by the Assembly of Manitoba Chiefs on Treaty One Territory by Dr. Anna Ziomek, CPSM Registrar/CEO, Dr. Jacobi Elliott, CPSM Council President, and Dr. Ira Ripstein, Council Past President. Dr. Lisa Monkman, Chair of the CPSM Truth and Reconciliation Advisory Circle delivered opening remarks.
View the official Statement and Apology to the Anishinaabeg, Anishininewuk, Dakota Oyate, Denesuline, and Nehethowuk Peoples here, or below
PREAMBLE
CPSM's failure to regulate the medical profession's current and past racist treatment of Indigenous peoples is a tragic part of CPSM's 150-year history.
This is an acknowledgment that Indigenous racism continues to exist in the medical profession resulting in great harm to Indigenous people. CPSM recognizes an apology is only the beginning of the important work towards establishing truth and reconciliation between the regulator of the medical profession and Indigenous peoples in Manitoba.
Racism by medical professionals, like many social determinants of health, has a negative impact on health outcomes. CPSM can address this aspect of Indigenous-specific racism by regulating the professional conduct of those practicing medicine.
We recognize that we need to listen to understand and learn from both Indigenous peoples and Indigenous physicians to inform our work to ensure Indigenous peoples feel valued and receive safe care.
DEFINITION OF INDIGENOUS-SPECIFIC RACISM
Racism is the belief that a group of people are inferior based on the colour of their skin or due to the inferiority of their culture or spirituality. It leads to discrimination behaviours and policies that oppress, ignore or treat racialized groups as "less than" non-racialized groups.
Indigenous-specific racism refers to the unique nature of stereotyping, bias and prejudice about Indigenous peoples in Canada that is rooted in the history of settler colonialism. It is the ongoing race-based discrimination, negative stereotyping and injustice experienced by Indigenous peoples that perpetuates power imbalances, systemic discrimination and inequitable outcomes stemming from colonial policies and practices.
(Taken from In-Plain Sight Report: Addressing Indigenous-Specific Racism and Discrimination in BC Health Care)
RECOGNITION OF CURRENT AND PAST INDIGENOUS-SPECIFIC RACISM IN THE MEDICAL PROFESSION
CPSM recognizes the collective role of the medical profession in providing medical care to Indigenous peoples, which is impacted by systemic colonial values, individual biases, and racist attitudes.  These continue to result in poor medical outcomes, including the suffering and deaths of a disproportionate number of Indigenous patients.
CPSM recognizes its failure to effectively regulate the medical profession to prevent racist and substandard medical care to Indigenous peoples.
CPSM recognizes the historical failures of the medical profession to address the racist and, consequently substandard medical care provided.  A few examples include:

Racially segregated and substandard hospitals for Indigenous patients;
Providing substandard care for Indigenous patients during tuberculosis outbreaks and in racially segregated TB sanitoriums for Indigenous persons;
Failing to obtain consent for treatment, including forced or uninformed sterilization of Indigenous women;
Conducting unethical nutrition experiments depriving Indigenous children of food.
CPSM recognizes current examples of Indigenous-specific racism in treating Indigenous peoples, which leads to substandard care, including, but not limited to:

Failing to recognize traditional Indigenous healthcare practices alongside Western medicine;
Accepting or advancing stereotypical perceptions of alcohol and illicit drug consumption or socioeconomic status;
Inadequate treatment of pain;
Failing to demonstrate interest, respect, and humility to understand the context of patients' Indigenous teachings, communications, lived experiences and circumstances.
Failing to adapt medical treatment plans to the reality of the person's social circumstance. For example, advising care while knowing there may be a lack of access to that care in the community;
Committing outright acts of racism, including derogatory comments to Indigenous persons. 
APOLOGY
CPSM apologizes for its historical and current failure to regulate the medical profession in the public interest by failing to adequately address Indigenous-specific racism by medical practitioners, whether in their clinical practice or administrative roles.
CPSM's responsibility extends to the racist actions and inactions of physicians, residents, medical students, clinical assistants, and physician assistants against Indigenous persons. We accept this responsibility, and we apologize.
CPSM apologizes to First Nations, Métis and Inuit children, families, and Elders for the racism that has occurred in their medical care, whether it was in the care they received, or should have received but did not. We apologize for the intergenerational trauma, suffering, poor health outcomes, and death that this has caused.
PLEDGE FOR IMPROVEMENT
CPSM pledges to take action against Indigenous-specific racism and to support and guide Manitoba physicians, residents, students, clinical assistants, and physician assistants to recognize and call out acts of racism against Indigenous persons and medical practitioners.
CPSM will take this journey, knowing that it is difficult but necessary and fully aware that it takes more than a pledge to end racism. Recognizing racism in ourselves will neither be comfortable nor easy. We will ask and intend to be guided by Indigenous physicians, scholars, Elders, and knowledge keepers along with the legal and ethical requirements to provide respect, dignity, and equitable health care for Indigenous persons in Manitoba. We will also be guided by the virtues exemplified by the ethical physician – compassion, honesty, humility, integrity, and prudence – as required by the Code of Ethics and Professionalism.
As the regulator of the medical profession CPSM will:

Create an appropriate land acknowledgment for CPSM;
Develop a Standard of Practice – Practicing Medicine to Prevent Indigenous Racism;
Ensure CPSM councillors, committee members, and staff are trained in Indigenous anti-racism, unconscious bias, and where appropriate, trauma-informed care; this starts with self-reflection of the power and privilege many non-Indigenous people have;
Broaden Indigenous participation on Council and Committees and staff;
Require all registrants to participate in Indigenous cultural safety and anti-racism training;
Develop ways for Indigenous patients to better access and participate in the complaints and investigation process, including emphasis on restorative justice;
Provide mentorship/leadership at CPSM with an open culture to support Indigenous medical practitioners.
CPSM understands that the receipt of this apology may invoke various responses from Indigenous persons including doubt, apprehension, and acceptance.
The work starts now.