AMC Commentary on the recent decision of the adjudication panel of the Manitoba Human Rights Commission but expresses concerns with its limitations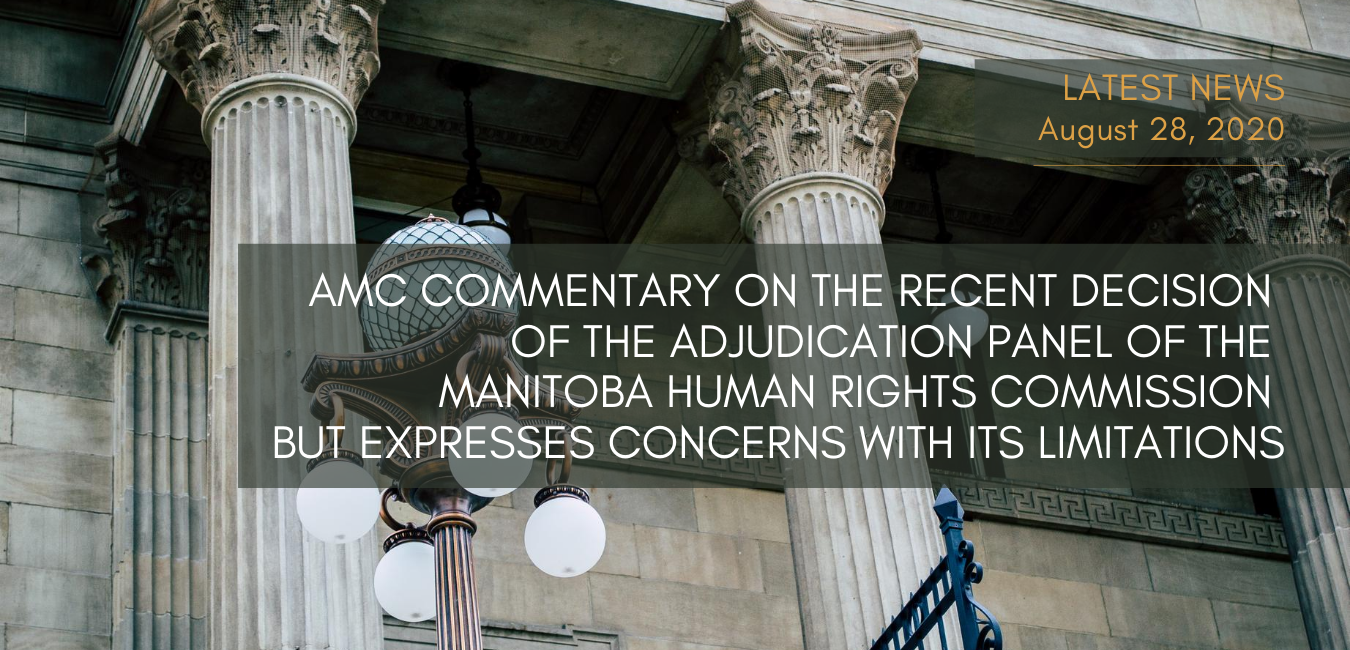 August 28, 2020
Treaty One Territory, Manitoba
alexpapineau
Sumner-Pruden v. Manitoba: This case concerns a human rights complaint against the Government of Manitoba, filed by Harriet Sumner-Pruden, on her own behalf and on behalf of her son Dewey, who are citizens of the Pinaymootang First Nation.
The complaint relates to the discriminatory provision of services and supports for First Nations children with disabilities in Manitoba. The Sumner-Pruden family argued that the Province of Manitoba should not side-step their human rights responsibilities in ensuring that needs of First Nations children are met by relying on jurisdictional arguments akin to those that gave rise to Jordan's Principle. On August 18, 2020, Adjudicator Robert Dawson released his Manitoba Human Rights Adjudication Panel decision in Sumner-Pruden v. Manitoba in favour of Sumner-Pruden and awarded damages.
Grand Chief Arlen Dumas said, "First, on behalf of AMC, I want to acknowledge Ms. Sumner-Pruden for her determination and fierce advocacy over many years that resulted in this decision. Second, this is a very important and precedence setting decision in favour of Dewey and the Sumner-Pruden family with implications for all First Nations. The adjudicator has acknowledged what First Nations have always known: that First Nations Human Rights are routinely violated and infringed upon, and that there is deeply engrained and long-standing, systemic racism faced by First Nations citizens. This is further compounded for First Nation citizens with disabilities when they attempt to access services but are denied simply because they are First Nations."
"Although the decision was delayed, it is timely in the context of current discussions on systemic racism faced by First Nations, and I welcome the findings of the adjudicator; however, the limitations of the decision are very concerning in that they may perpetuate the very systemic racism that the panel purports to address. This is why it is important for First Nations to establish and further enhance our own human rights, advocacy, and adjudication institutions alongside enabling provincial and federal legislation specific to First Nations with disabilities. In light of this decision, we call on all levels of government to support existing First Nations disability advocacy organizations to continue to uphold and further bolster First Nation laws and rights enshrined under the Canadian Constitution, international human rights mechanisms, and the numerous resolutions on disability and Jordan's Principle passed by Chiefs-in-Assembly," concluded AMC Grand Chief Arlen Dumas.
While the AMC agrees in principle with the overall decision and agrees that it is precedent-setting, the Secretariat, however, expresses concern about the limitations and restrictions of the decision to individual circumstances rather than systemic and structural contexts and in terms of the minimal compensation amount awarded. The organization will continue to look at the procedural aspects of the decision to further support the family, determine if there are grounds for appealing the amount awarded, and if expert testimony was unfairly discounted by the adjudicator.
About the Assembly of Manitoba Chiefs
The AMC was formed in 1988 by the Chiefs in Manitoba to advocate on issues that commonly affect First Nations in Manitoba. AMC is an authorized representative of 62 of the 63 First Nations in Manitoba with a total of more than 151,000 First Nation citizens in the province, accounting for approximately 12 percent of the provincial population. AMC represents a diversity of Anishinaabe (Ojibway), Nehetho / Ininew (Cree), Anishininew (Ojibwe-Cree), Denesuline (Dene) and Dakota Oyate (Dakota) people.